The Cognition and Learning Center studies how our mind works and how it develops, such as how we understand concepts like "red," "friend," and "42." We are located in the Psychology Department at Rutgers University – New Brunswick. We are also affiliated with the Rutgers Center for Cognitive Science.
We will be considering undergraduate research assistants and graduate students for the upcoming academic year. Read more about working with Dr. Wang here.
Get in touch if you are interested in joining our team!
Summer 2023: Welcome new members of CALC!
Spring 2023: Find us at the Liberty Science Center!
Fall 2022: Lab Lunch at Woody's!
April 2022: Our first in person lab meeting!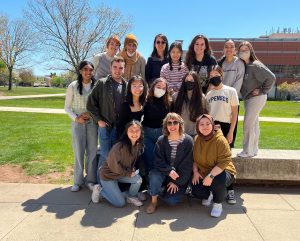 Spring 2022: Hopefully we will see you in person soon!
Fall 2021: Welcome new members of CALC!
Summer 2021: What an exciting group!
Spring 2021: Welcome new members of CALC!
Fall 2020: Our first CALC team!