Various miscellaneous or unfamiliar editing features are spread throughout the dashboard view. Explained below are three such editing features that can aid you in the creation of your site's content.
Distraction-Free Writing Mode
Want to settle down and really churn out some content? If so, then the Distraction-Free Writing Mode is for you!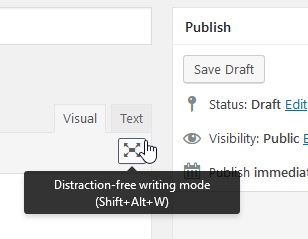 The Distraction-free writing mode button is located at the top right corner of every Full-Width Text module (at the beginning of every page or post in the editor view). Clicking on it will temporarily remove all sidebars and dashboard menus in the editor view, allowing for a Distraction-free writing experience. As long as you stay within the content module that you are writing text in, the sidebars and menus will stay unseen. Hovering outside the content module will bring back the sidebars into your view, as will simply deselecting the Distraction-free writing mode button.
Check out the documentation on Screen Options to learn how to remove the Distraction-free writing mode button from your editor view.
Navigating the Toolbar
While most of the buttons in the WYSIWYG (What You See Is What You Get) Toolbar are familiar, some buttons require a quick explanation; this video will do just that! If you would like to review the more basic buttons of the toolbar, check out the Full-Width Text Module documentation, and view the video within that page.
Password Protection
To make a page or post password protected, head over to the Publish module and edit its Visibility by selecting the option, and then entering the password for the page into the field that appears.
Now whomever you give the password to can see the content on the page or post that is protected; they simply need to enter the password into the field on the live page or post and then submit it.